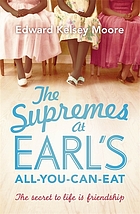 The Supreme's at Earl's All-You-Can-Eat is a mildly humorous, but touching, story about the lives of three close friends.  Odette, Clarice, and Barbara Jean grew up together.  As a result of their closely knit friendship, they have become known in their small community as the "Supremes".  Each week, they meet for dinner at Earl's All-You-Can-Eat cafe. However, their visits to Earl's is not solely about food.  Earl's has become a place where they can feed their minds, bodies, and soul with laughter and great conversation. This is something they all learn to appreciate as they face the most challenging year of their lives.
Written by Chicago native Edward Kelsey Moore, this story is about true sisterhood.  These women help each other through difficult situations by sharing wisdom, faith, and hope.  Similar to the  movie Soul Food, this book highlights the many wonderful traditions that unites African Americans within their communities.
Come check out this and many other new books from our new book display right next to the graphic novels!