April is a time for the resurgence of green… well, when it's not snowing! In spring we think green grass, green leaves, green energy, well… we try to. Earth Day was first celebrated in 1970 and a lot has changed. Sure, the hippies are still out in full, colorful glory but we now see hipsters on bikes, little kids with recycling bins, and river rescues. The green movement here in the US has multiplied and changed and while the message is still Inconvenient doing something is not. If you're feeling a little stuck on what you can do this Earth Day the library is prepared to give you a hand.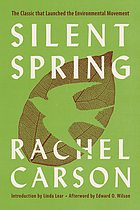 If you feel like starting with the beginning of the environmental movement and grooving with your inner hippie, check out Rachel Carson's Silent Spring. The book brought the effects of pesticide use to the notice of the broader public and eventually resulted in both the ban of DDT and the formation of the Environmental Protection Agency.
Once you've got your patchwork hemp pants and your round sunglasses on check out our display for more information on both the damage humans have done to the Earth and things you can do to help!  You can make a difference no matter how small and there are even more resources to help!
Have you examined your carbon footprint recently? You can check our your environmental impact here or check out the No Impact Project to find out ways to lower your impact. Find out how global warming and sea level rise will affect your area. Only ready to dip in your toes? Find out how to green your morning routine!
Check out earthday.org for more ways to go green and help them reach 2 billion acts of green!
Looking for more ways to get green? Check these out!