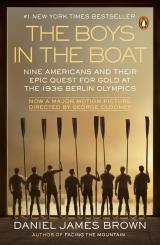 The Boys in the Boat: Nine Americans and Their Epic Quest for Gold at the 1936 (Ebook)
by Daniel James Brown
Are you getting excited for the Summer Olympics in Rio this summer? If so you should check The Boys in the Boat by Daniel James Brown, which was also covered in a documentary by PBS's American Experience (you can watch the documentary on PBS's website).
Both the book and the documentary tell the story of nine working-class young men from the University of Washington who took the rowing world and America by storm when they captured the gold medal at the 1936 Olympic Games in Berlin. Their unexpected victory, against not only the Ivy League teams of the East Coast but Adolf Hitler's elite German rowers, gave hope to a nation struggling to emerge from the depths of the Great Depression.
Find the Boys in the Boat along with these other great Olympic titles at the Prairie State College Library!
Print Books
Ebooks