HBO's new series, Westworld, is a big sprawling story set in a future where humans have begun imbuing robots with sentience in order to make a large, corporately owned theme park, more immersive for its rich clientele. It is based on the 1970s Michael Crichton movie of the same name where Androids in a Western based theme park become murderous and start to terrorize its patrons. Unlike the movie, the show seems to be developing some bigger questions, such as how is consciousness developed and what is a creators ethical responsibility for its creation as well as examining what is entertainment and what will immersive game playing experiences look like in the future. Overall, it is a great viewing experience, that balances a fun story while still letting its audience delve into references such as Shakespeare, Da Vinci,  Alice in Wonderland, Hieronymus Bosch, and Julian Jaynes' theory of the Bicameral Mind.
If you have been enjoying the show or are just interested in some some of the themes or genres it presents, then try out some of these titles we have at the Prairie State College Library.
Blood meridian: or, The evening redness in the West
by Cormac McCarthy
FIC MCC
Based on incidents that took place in the southwestern United States and Mexico around 1850, this novel chronicles the crimes of a band of desperados, with a particular focus on one, "the kid," a boy of fourteen. An epic novel of the violence and depravity that attended America's westward expansion, Blood Meridian brilliantly subverts the conventions of the Western novel and the mythology of the "wild west." Based on historical events that took place on the Texas-Mexico border in the 1850s, it traces the fortunes of the Kid, a fourteen-year-old Tennesseean who stumbles into the nightmarish world where Indians are being murdered and the market for their scalps is thriving.
---
Do androids dream of electric sheep?
by Philip K. Dick
FIC DIC
It was January 2021, and Rick Deckard had a license to kill. Somewhere among the hordes of humans out there, lurked several rogue androids. Deckard's assignment–find them and then…"retire" them. Trouble was, the androids all looked exactly like humans, and they didn't want to be found!
---
What to think about machines that think : today's leading thinkers on the age of machine intelligence
Q335 .W445 2015
Weighing in from the cutting-edge frontiers of science, today's most forward-thinking minds explore the rise of "machines that think."
Stephen Hawking recently made headlines by noting, "The development of full artificial intelligence could spell the end of the human race." Others, conversely, have trumpeted a new age of "superintelligence" in which smart devices will exponentially extend human capacities. No longer just a matter of science-fiction fantasy (2001, Blade Runner, The Terminator, Her, etc.), it is time to seriously consider the reality of intelligent technology, many forms of which are already being integrated into our daily lives. In that spirit, John Brockman, publisher of Edge. org ("the world's smartest website" – The Guardian), asked the world's most influential scientists, philosophers, and artists one of today's most consequential questions: What do you think about machines that think?
---
The Ox-bow Incident
by Walter Van Tilburg Clark
FIC CLA
Set in 1885, The Ox-Bow Incident is a searing and realistic portrait of frontier life and mob violence in the American West. First published in 1940, it focuses on the lynching of three innocent men and the tragedy that ensues when law and order are abandoned. The result is an emotionally powerful, vivid, and unforgettable re-creation of the Western novel, which Clark transmuted into a universal story about good and evil, individual and community, justice and human nature.
---
The complete stories of J.G. Ballard
by J.G. Ballard
FIC BAL
Short story, 'The Largest Theme Park in the World', describes a Europe of the near future, 'the first totalitarian system based on leisure'. Former pilot Paul Sinclair drives his young doctor wife Jane to the French Riviera when she takes up a post at the exclusive high-tech community of Eden-Olympia. The multinational corporations behind the business park are conducting a psychological laboratory there, a huge experiment in how to 'hot-house the future'. They become aware of the violence and paranoia under the project's glossy surfaces and its increasingly sinister undercurrents: sado-masochistic sex, robberies and racist attacks, unexplained murders. Jane falls into promiscuity and drug addiction, while Paul investigates the death of the former medical director of this 'Alcatraz-sur-Mer' in a deranged shooting spree.
---
Ex machina
AV PN1997.2 .E9 2015
Caleb, a 24-year-old coder at the world's largest Internet company, wins a competition to spend a week at a retreat belonging to the company's reclusive CEO, Nathan. But when Caleb arrives he finds that he will have to participate in a fascinating experiment with the world's first true artificial intelligence, housed in the body of a beautiful robot woman, Ava. Truths, emotions, and motives are blurred as the relationship between Caleb, Ava, and Nathan intensifies.
---
The Revenant: A Novel of Revenge
by Michael Punke
FIC PUN
Link to Ebook
The year is 1823, and the trappers of the Rocky Mountain Fur Company live a brutal frontier life. Trapping beaver, they contend daily with the threat of Indian tribes turned warlike over the white men's encroachment on their land, and other prairie foes — like the unforgiving landscape and its creatures. Hugh Glass is among the Company's finest men, an experienced frontiersman and an expert tracker. But when a scouting mission puts him face-to-face with a grizzly bear, he is viciously mauled and not expected to survive. The Company's captain dispatches two of his men to stay behind and tend to Glass before he dies, and to give him the respect of a proper burial. When the two men abandon him instead, taking his only means of protecting himself — including his precious gun and hatchet — with them, Glass is driven to survive by one desire: revenge. With shocking grit and determination, Glass sets out crawling inch by inch across more than three thousand miles of uncharted American frontier, negotiating predators both human and not, the threat of starvation, and the agony of his horrific wounds.
---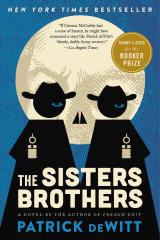 The Sisters Brothers
by Patrick deWitt
EBOOK
The Sisters Brothers, a darkly comic, outrageously inventive novel that offers readers a decidedly off-center view of the Wild, Wild West. Set against the back-drop of the great California Gold Rush, this odd and wonderful tour de force at once honors and reshapes the traditional western while chronicling the picaresque misadventures of two hired guns, the fabled Sisters brothers.
---
High Noon
AV PN1997.2 .H54 2012
This Western classic stars Gary Cooper as Hadleyville marshal Will Kane, about to retire from office and go on his honeymoon with his new Quaker bride, Amy (Grace Kelly). But his happiness is short-lived when he is informed that the Miller gang, whose leader (Ian McDonald) Will had arrested, is due on the 12:00 train. Pacifist Amy urges Will to leave town and forget about the Millers, but this isn't his style; protecting Hadleyburg has always been his duty, and it remains so now. But when he asks for deputies to fend off the Millers, virtually nobody will stand by him. Chief Deputy Harvey Pell (Lloyd Bridges) covets Will's job and ex-mistress (Katy Jurado); his mentor, former lawman Martin Howe (Lon Chaney Jr.) is now arthritic and unable to wield a gun. Even Amy, who doesn't want to be around for her husband's apparently certain demise, deserts him. Utterly alone, Kane walks into the center of town, steeling himself for his showdown with the murderous Millers.
---
An occurrence at Owl Creek Bridge and other stories
by Ambrose Bierce
FIC BIE
Ambrose Bierce wrote stories so dramatically different from those of his contemporaries that they hardly seem like they were written in the nineteenth century. These original and innovative tales, most of which appeared in the 1880s and 1890s, constitute 23 examples of his best and most characteristic short fiction: anti-war satires that underscore the barbarism and futility of bloodshed; horror stories with a keenly ironic edge; and sardonic "tall tales" of the Old West. The American Civil War was the defining experience of Bierce's life, and the battlefield ordeals from his service within the Union army contributed to his distinctive brand of cynical realism. This collection boasts the best of his Civil War tales, including "Chickamauga," "A Horseman in the Sky," and the author's much-imitated masterpiece, "An Occurrence at Owl Creek Bridge." Writers of mystery and suspense stories have long been influenced by Bierce's tales of the supernatural such as "The Moonlit Road," and "The Eyes of the Panther." This anthology also features "Oil of Dog," "My Favorite Murder," and other satirical fables that continue to captivate readers with their humor and ingenuity.
---
The island of Dr. Moreau
by H.G. Wells
FIC WEL
Dr. Monreau is a mad surgeon-turned-vivisectionist who, in his laboratory on a remote island, performs ghoulish experiments in an attempt to transform animals into men, with monstrous results. It is one of Wells' earliest and most sinister personifications of the scientific quest to control and manipulate the natural world, and, ultimately, human nature itself. First published in 1896, The Island of Dr. Moreau has intrigued and horrified readers for generations.
---
Her
AV PN1997.2 .H47 2014
Set in Los Angeles in the slight future, Theodore, a complex, soulful man who makes his living writing touching personal letters for other people. Heartbroken after the end of a long relationship, he becomes intrigued with a new, advanced operating system, which promises to be an intuitive and unique entity in its own right. Upon initiating it, he is delighted to meet "Samantha", a bright, female voice who is insightful, sensitive and surprisingly funny. As her needs and desires grow, in tandem with his own, their friendship deepens into an eventual love for each other.
---
Westerns: Making the Man in Fiction and Film
by Lee Clark Mitchell
PS374. W4 M55
Ranging from the novels of James Fenimore Cooper to Louis L'Amour, and from classic films like Stagecoach to spaghetti Westerns like A Fistful of Dollars, Mitchell shows how Westerns helped assuage a series of crises in American culture. This landmark study shows that the Western owes its perennial appeal not to unchanging conventions but to the deftness with which it responds to the obsessions and fears of its audience. And no obsession, Lee Mitchell argues, has figured more prominently in the Western than what it means to be a man.
---
Robot ethics : the ethical and social implications of robotics
TJ211.49 .R62 2012
Robots today serve in many roles, from entertainer to educator to executioner. As robotics technology advances, ethical concerns become more pressing: Should robots be programmed to follow a code of ethics, if this is even possible? Are there risks in forming emotional bonds with robots? How might society–and ethics–change with robotics? This volume is the first book to bring together prominent scholars and experts from both science and the humanities to explore these and other questions in this emerging field. Starting with an overview of the issues and relevant ethical theories, the topics flow naturally from the possibility of programming robot ethics to the ethical use of military robots in war to legal and policy questions, including liability and privacy concerns. The contributors then turn to human-robot emotional relationships, examining the ethical implications of robots as sexual partners, caregivers, and servants. Finally, they explore the possibility that robots, whether biological-computational hybrids or pure machines, should be given rights or moral consideration. Ethics is often slow to catch up with technological developments. This authoritative and accessible volume fills a gap in both scholarly literature and policy discussion, offering an impressive collection of expert analyses of the most crucial topics in this increasingly important field.
---
Gödel, Escher, Bach : an eternal golden braid
by Douglas Hofstadter
QA9.8 .H63
Douglas Hofstadter's book is concerned directly with the nature of "maps" or links between formal systems. However, according to Hofstadter, the formal system that underlies all mental activity transcends the system that supports it. If life can grow out of the formal chemical substrate of the cell, if consciousness can emerge out of a formal system of firing neurons, then so too will computers attain human intelligence. Gödel, Escher, Bach is a wonderful exploration of fascinating ideas at the heart of cognitive science: meaning, reduction, recursion, and much more.
---