Hey! There's a new Star Wars trailer out! Check it out, along with all the Star Wars books that you can find at the Prairie State College Library.
My favorite is Luke Skywalker can't read : and other geeky truths.
---
Star Wars : Dark empire trilogy
by Veitch, Tom
GN VEI
Six years after the fall of the Empire in Return of the Jedi, the battle for the galaxy's freedom rages on. The Empire has been mysteriously reborn under an unknown leader, wielding a new weapon of great power. Princess Leia and Han Solo struggle to hold together the New Republic while the galaxy's savior, Luke Skywalker, fights an inner battle as he is drawn to the dark side, just as his father…
---
Star wars: aftermath
by Wendig, Chuck
FIC WEN
As the Empire reels from its critical defeats at the Battle of Endor, the Rebel Alliance–now a fledgling New Republic–presses its advantage by hunting down the enemy's scattered forces before they can regroup and retaliate. But above the remote planet Akiva, an ominous show of the enemy's strength is unfolding. Out on a lone reconnaissance mission, pilot Wedge Antilles watches Imperial Star Destroyers gather like birds of prey circling for a kill, but he's taken captive before he can report back to the New Republic leaders.
Meanwhile, on the planet's surface, former rebel fighter Norra Wexley has returned to her native world–war weary, ready to reunite with her estranged son, and eager to build a new life in some distant place. But when Norra intercepts Wedge Antilles's urgent distress call, she realizes her time as a freedom fighter is not yet over. What she doesn't know is just how close the enemy is–or how decisive and dangerous her new mission will be.
Determined to preserve the Empire's power, the surviving Imperial elite are converging on Akiva for a top-secret emergency summit–to consolidate their forces and rally for a counterstrike. But they haven't reckoned on Norra and her newfound allies–her technical-genius son, a Zabrak bounty hunter, and a reprobate Imperial defector–who are prepared to do whatever they must to end the Empire's oppressive reign once and for all.
---
Star wars : bloodline
by Gray, Claudia
FIC GRA
When the Rebellion defeated the Empire in the skies above Endor, Leia Organa believed it was the beginning to a lasting peace. But after decades of vicious infighting and partisan gridlock in the New Republic Senate, that hope seems like a distant memory.
Now a respected senator, Leia must grapple with the dangers that threaten to cripple the fledgling democracy–from both within and without. Underworld kingpins, treacherous politicians, and Imperial loyalists are sowing chaos in the galaxy. Desperate to take action, senators are calling for the election of a First Senator. It is their hope that this influential post will bring strong leadership to a divided galaxy.
As the daughter of Darth Vader, Leia faces with distrust the prospect of any one person holding such a powerful position–even when supporters suggest Leia herself for the job. But a new enemy may make this path Leia's only option. For at the edges of the galaxy, a mysterious threat is growing. . . .
---
Star wars : the force awakens
by Foster, Alan Dean
FIC FOS
More than thirty years ago, Star Wars burst onto the big screen and became a cultural phenomenon. Now the next adventures in this blockbuster saga are poised to captivate old and new fans alike–beginning with the highly anticipated Star Wars: The Force Awakens . And alongside the cinematic debut comes the thrilling novel adaptation by New York Times bestselling science fiction master Alan Dean Foster.
Set years after Return of the Jedi, this stunning new action-packed adventure rockets us back into the world of Princess Leia, Han Solo, Chewbacca, C-3PO, R2-D2, and Luke Skywalker, while introducing a host of exciting new characters. Darth Vader may have been redeemed and the Emperor vanquished, but peace can be fleeting, and evil does not easily relent. Yet the simple belief in good can still empower ordinary individuals to rise and meet the greatest challenges.
So return to that galaxy far, far away, and prepare yourself for what happens when the Force awakens. . . .
---
Star wars omnibus : infinities
by Various
GN WAR
What if, in A New Hope, instead of destroying the Death Star, Luke's proton torpedo had malfunctioned? What if, in The Empire Strikes Back, Han had not arrived on that Hoth ice field in time to save Luke from freezing to death? What if, in Return of the Jedi, Leia's thermal detonator destroyed Jabba the Hutt's palace before she could rescue Han?
Collected here are three different tales where one thing happens differently than it did in the original trilogy of Star Wars films. The familiar players — Luke Skywalker, Princess Leia, Han Solo, and Darth Vader — are launched onto new trajectories that send them toward dire consequences and unexpected futures!
---
Star Wars psychology : dark side of the mind
by Various
PN1995.9.S695 S765 2015
This essay collection offers a fascinating psychological analysis of the compelling and complex universe of George Lucas's richly rendered Star Wars series. A group of expert contributors examines such topics as family ties, Jedi qualities, masculinity, girl power, and the values embodied in both the "dark" and "light" sides of this psychologically spellbinding world.
---
Star wars and philosophy : more powerful than you can possibly imagine
by Various
PN1995.9.S695 S76 2005
The Star Wars films continue to revolutionize science fiction, creating new standards for cinematographic excellence, and permeating popular culture around the world. The films feature many complex themes ranging from good versus evil and moral development and corruption to religious faith and pragmatism, forgiveness and redemption, and many others.
The essays in this volume tackle the philosophical questions from these blockbuster films including: Was Anakin predestined to fall to the Dark Side? Are the Jedi truly role models of moral virtue? Why would the citizens and protectors of a democratic Republic allow it to descend into a tyrannical empire? Is Yoda a peaceful Zen master or a great warrior, or both? Why is there both a light and a dark side of the Force? Star Wars and Philosophy ponders the depths of these subjects and asks what it truly means to be mindful of the "living force."
---
William Shakespeare's Star Wars (Book 1 -3)
by Doescher, Ian
FIC DOE
Return once more to a galaxy far, far away with this sublime retelling of George Lucas's epic Star Wars in the style of the immortal Bard of Avon. The saga of a wise (Jedi) knight and an evil (Sith) lord, of a beautiful princess held captive and a young hero coming of age, Star Wars abounds with all the valor and villainy of Shakespeare's greatest plays. 'Tis a tale told by fretful droids, full of faithful Wookiees and fearstome Stormtroopers, signifying…pretty much everything.
Reimagined in glorious iambic pentameter–and complete with twenty gorgeous Elizabethan illustrations– William Shakespeare's Star Wars will astound and edify Rebels and Imperials alike. Zounds! This is the book you're looking for.
---
Luke Skywalker can't read : and other geeky truths
by Britt, Ryan
PN3433.5 .B74 2015
Essayist Ryan Britt got a sex education from dirty pictures of dinosaurs, made out with Jar-Jar Binks at midnight, and figured out how to kick depression with a Doctor Who Netflix-binge. Alternating between personal anecdote, hilarious insight, and smart analysis, Luke Skywalker Can't Read contends that Barbarella is good for you, that monster movies are just romantic comedies with commitment issues, that Dracula and Sherlock Holmes are total hipsters, and, most shockingly, shows how virtually everyone in the Star Wars universe is functionally illiterate.
Romp through time and space, from the circus sideshows of 100 years ago to the Comic Cons of today, from darkest corners of the Galaxy to the comfort of your couch. For anyone who pretended their flashlight was a lightsaber, stood in line for a movie at midnight, or dreamed they were abducted by aliens, Luke Skywalker Can't Read is full of answers to questions you haven't thought to ask, and perfect for readers of Chuck Klosterman, Rob Sheffield, and Ernest Cline.
---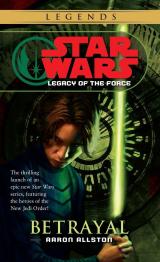 Star Wars Legacy of the Force (7 book series)
by Aaron Allston and Troy Denning
Ebook
Honor and duty collide with friendship and blood ties as the Skywalker and Solo clans find themselves on opposing sides of an explosive conflict.
When a mission to uncover an illegal missile factory on the planet Adumar ends in a violent ambush–from which Jedi Knight Jacen Solo and his protégé and cousin, Ben Skywalker, narrowly escape with their lives–it's the most alarming evidence yet that political unrest is threatening to ignite into total rebellion. The specter of full-scale war looms between a growing cadre of defiant planets and the Galactic Alliance that some fear is becoming a new Empire.
Determined to root out those behind the mayhem, Jacen follows a trail of cryptic clues to a rendezvous with the most shocking of revelations. Meanwhile Luke grapples with something even more troubling: dream visions of a shadowy figure whose Force power and ruthlessness remind him of Darth Vader. If Luke's visions come to pass, they will bring untold pain to the Jedi Master . . . and to the galaxy.
---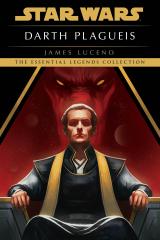 Darth Plagueis: Star Wars Legends
by James Luceno
Ebook
Darth Plagueis: one of the most brilliant Sith Lords who ever lived. Possessing power is all he desires. Losing it is the only thing he fears. As an apprentice, he embraces the ruthless ways of the Sith. And when the time is right, he destroys his Master—but vows never to suffer the same fate. For like no other disciple of the dark side, Darth Plagueis learns to command the ultimate power . . . over life and death. Darth Sidious: Plagueis's chosen apprentice. Under the guidance of his Master, he secretly studies the ways of the Sith, while publicly rising to power in the galactic government, first as Senator, then as Chancellor, and eventually as Emperor. Darth Plagueis and Darth Sidious, Master and acolyte, target the galaxy for domination—and the Jedi Order for annihilation. But can they defy the merciless Sith tradition? Or will the desire of one to rule supreme, and the dream of the other to live forever, sow the seeds of their destruction?
---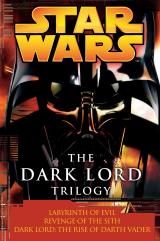 The Dark Lord Trilogy
by James Luceno and Matthew Stover
Ebook
On the planet Neimoidia, Jedi Knights Obi-Wan Kenobi and Anakin Skywalker seize an unexpected prize: intelligence capable of leading the Republic forces to the ever-elusive Darth Sidious, who is ruthlessly orchestrating a campaign to divide and overwhelm the Jedi forces. As combat escalates across the galaxy, and Darth Sidious remains one step ahead of his pursuers, the stage is set for an explosive endgame. Tormented by unspeakable visions, Anakin edges closer to the brink of a galaxy-shaping decision, while Darth Sidious plots to strike the final staggering blow against the Republic–and to ordain a fearsome new Sith Lord: Darth Vader.Once the most powerful Knight ever known to the Jedi Order, Anakin becomes Darth Vader, a disciple of the dark side, a lord of the dreaded Sith, and the avenging right hand of the galaxy's ruthless new Emperor. As a few surviving Jedi lead a charge on a Separatist stronghold, the deadliest threat still rests in the swift and lethal crimson lightsaber of Darth Vader–behind whose brooding mask lies a shattered heart, a poisoned soul, and a cunning, twisted mind hell-bent on vengeance. For the handful of scattered Jedi hunted across space, survival is imperative if the light side of the Force is to be protected and the galaxy reclaimed.
---
Fate of the Jedi (9 book series)
by Aaron Allston and others
Ebook
Does a new start for the Galactic Alliance mark the beginning of the fall of the Jedi Order?
After a violent civil war and the devastation wrought by the now fallen Darth Caedus, the Galactic Alliance is in crisis. From all corners, politicians, power brokers, and military leaders converge on Coruscant for a crucial summit to restore order and determine the future of their unified worlds. But even more critical, and far more uncertain, is the future of the Jedi.
In a shocking move, Chief of State Natasi Daala orders the arrest of Luke Skywalker for failing to prevent Jacen Solo's turn to the dark side and his subsequent reign of terror as a Sith Lord. But it's only the first blow in an anti-Jedi backlash fueled by a hostile government and suspicious public. Negotiating his freedom in exchange for his exile from the Jedi Order, Luke, with his son, Ben, at his side, sets out to unravel the shocking truth behind Jacen Solo's corruption and downfall. But the secrets Luke uncovers may bring his quest—and life as he knows it—to a sudden end. And all the while, another Jedi Knight, consumed by madness, is headed to Coruscant on a fearsome mission that could devastate the entire galaxy.
---
The Han Solo Adventures
by Brian Daley
Ebook
Upon discovering that they need a special Waiver in order to operate the Millennium Falcon within the Corporate Sector without running afoul of the authorities, Han Solo and Chewbacca attempt to get in touch with Doc, an outlaw technician. However, Doc's daughter Jessa informs them that Doc has vanished, presumably abducted.
Han works out a deal with Jessa: in exchange for the Waiver and upgrades to the Falcon, he and Chewbacca will help out in the effort to discover what happened to Doc and other enemies of the Corporate Sector Authority, the capitalistic and authoritarian organization that oversees the Corporate Sector.
As part of this effort, Han and Chewbacca escort two droids, Bollux and Blue Max, to the planet Orron III, where they meet with Rekkon, the leader of the missing persons search.
Blue Max, a small computer probe hidden away in Bollux's chest cavity, is able to infiltrate the Authority's computer network and begin searching for the location of the abductees. However, Rekkon's small group has been compromised by a traitor, and their activities are discovered. During the group's attempt to escape the planet, Chewbacca is captured by Espos (Authority Security Police) and taken away.
Han and the others manage to escape the planet aboard the Falcon. During liftoff, the traitor shoots Rekkon and destroys the data that Blue Max gathered. Before dying, however, Rekkon is able to leave the words "Stars' End, Mytus VII" scrawled on the Falcon's game table. Han realizes that this must be the location of the Authority's covert prison facility.
After unmasking (with a canary trap) and dealing with the traitor, Han and the remaining members of Rekkon's group fly to Stars' End. Masquerading as interstellar entertainers, they infiltrate the facility and rescue the kidnap victims, including Doc and Chewbacca. The facility is destroyed, along with the administrator and most of the staff, in the escape.
---