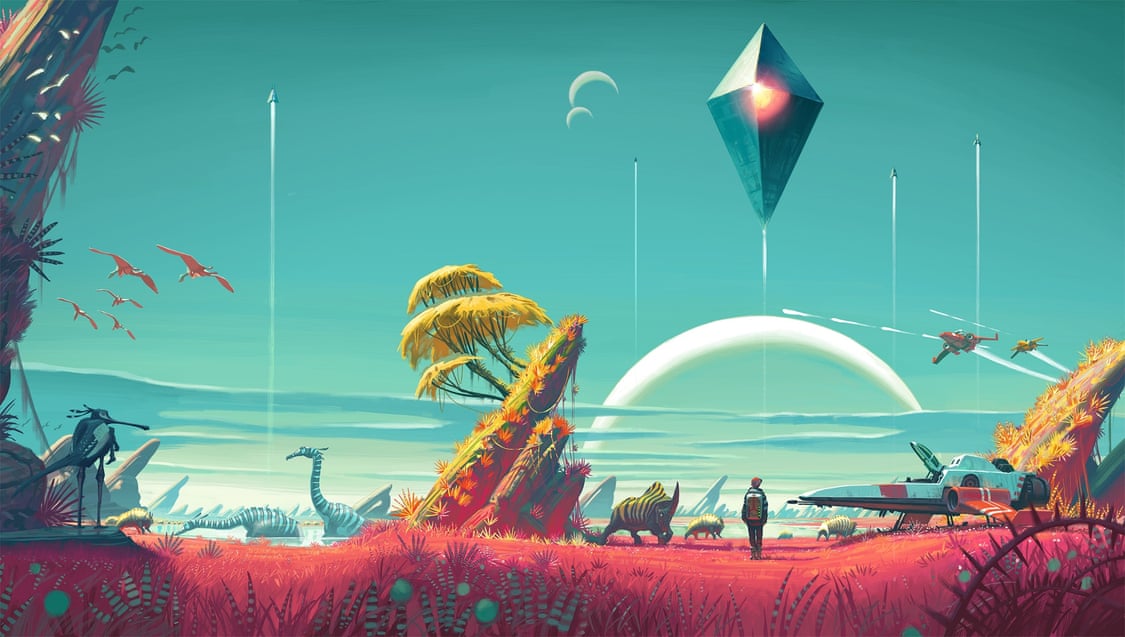 The new video game No Man's Sky allow players to traverse the galaxy and explore algorithmically generated planets teaming with various environments, lifeforms and materials. For the people who are interested in space travel check out any of these 12 books on the topic. If it is not enough to quell your exploration wants, stop by and talk to a librarian who will happily help you find more materials on the topic.
Space chronicles : facing the ultimate frontier by Neil deGrasse Tyson
TL789.8.U5 T97 2012
Neil deGrasse Tyson is a rare breed of astrophysicist, one who can speak as easily and brilliantly with popular audiences as with professional scientists. This book represents the best of Tyson's commentary, including a candid new introductory essay on NASA and partisan politics, giving us an eye-opening manifesto on the importance of space exploration for America's economy, security, and morale. Thanks to Tyson's fresh voice and trademark humor, his insights are as delightful as they are provocative, on topics that range from the missteps that shaped our recent history of space travel to how aliens, if they existed, might go about finding us.
---
Beyond : our future in space by Chris Impey
TL793 .I468 2015
A dazzling and propulsive voyage through space and time, Beyond reveals how centuries of space explorers–from the earliest stargazers to today's cutting-edge researchers–all draw inspiration from an innate human emotion: wanderlust. This urge to explore led us to multiply around the globe, and it can be traced in our DNA.
Combining expert knowledge of astronomy and avant-garde technology, Chris Impey guides us through the heady possibilities for the next century of exploration. In twenty years, a vibrant commercial space industry will be operating. In thirty years, there will be small but viable colonies on the Moon and Mars. In fifty years, mining technology will have advanced enough to harvest resources from asteroids. In a hundred years, a cohort of humans born off-Earth will come of age without ever visiting humanity's home planet. This is not the stuff of science fiction but rather the logical extension of already available technologies.
---
Time travel and warp drives : a scientific guide to shortcuts through time and space by Allen Everett and Thomas A. Roman
QC173.59.S65 E94 2012
In Time Travel and Warp Drives , Allen Everett and Thomas A. Roman take readers on a clear, concise tour of our current understanding of the nature of time and space–and whether or not we might be able to bend them to our will. Using no math beyond high school algebra, the authors lay out an approachable explanation of Einstein's special relativity, then move through the fundamental differences between traveling forward and backward in time and the surprising theoretical connection between going back in time and traveling faster than the speed of light. They survey a variety of possible time machines and warp drives, including wormholes and warp bubbles, and, in a dizzyingly creative chapter, imagine the paradoxes that could plague a world where time travel was possible–killing your own grandfather is only one of them!
---
Continue reading "No Man's Sky: 12 Books for the Space Traveler" →